smack dab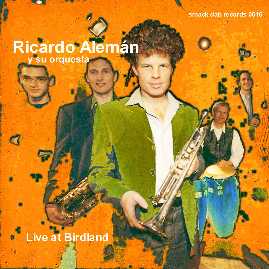 Ricardo Alemán y su orquesta:
Live at Birdland
smack dab records 0616
The Incredible Jazz Guitar (Afro)
Happy Now (Son Montuno)
La Salsa de Yoanenis (Descarga)
Susemihl's Choice (Zeydeco)
Juanita Gonzales (Chachachá)
Shake Your Ass And Dance (Calypso)

Ricardo Alemán - trumpet
Lieven Brunkhorst - tenorsaxophone
Sebastian Hoffmann aka Sebastián Cortéz - trombone
Matthäus Winnitzki aka Matteo Montuno - piano
Oliver Karstens - bass
Thomas Planthaber aka Don Rabioso Alcatráz - drums
Thomas "Alberto" Altmann - congas

Recorded live January 27th, 2001 at Birdland, Hamburg.
Der Konzertmitschnitt vom 27. Januar 2001 dokumentiert den ersten Auftritt von Ricardo Alemán y su orquesta. Die Aufnahmen umfassen fünf bisher unveröffentlichte Kompositionen des Bandleaders sowie den Latin Jazz Klassiker "Happy Now" von Mongo Santamaria. Das Orchester schäumt über vor Spielfreude und die Solisten riskieren Kopf und Kragen, um sich dann selbst zu übertreffen... Wie es eben nur zu vorgerückter Stunde in verrauchten Spelunken zu erleben ist!